All-natural liquid supplements for horses and dogs – that actually work.
Our products are simple; the results are anything but. Our patented blend of omega fatty acids and human-grade vitamin E provides support for the entire equine (or canine) body: joints and cartilage, digestion, respiration, and more.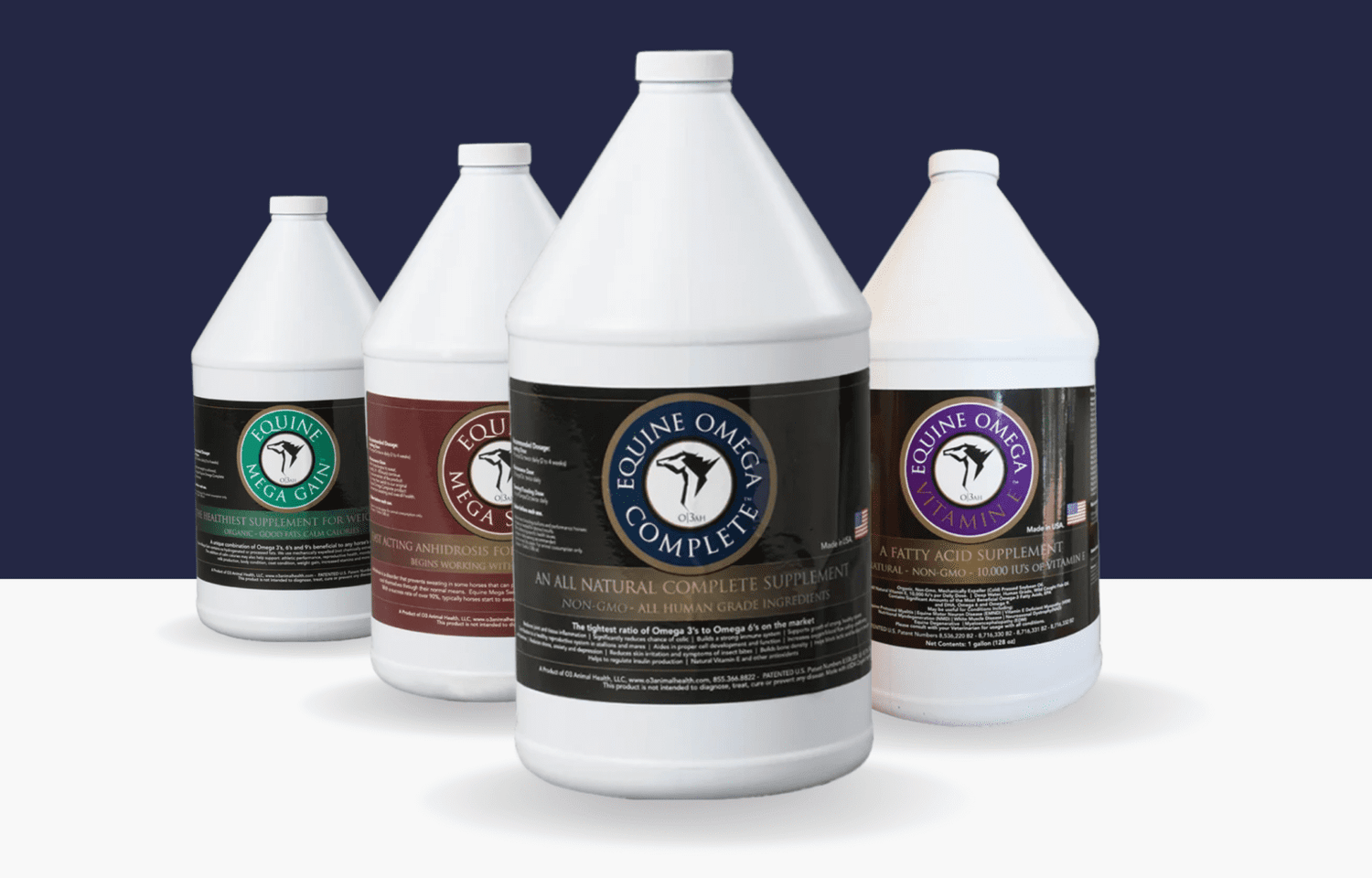 A top choice among equestrians.
Proven effective through scientific studies conducted at the University of Guelph, our products reduce inflammation, clear up ulcers, protect against cartilage damage and support the overall health and well-being of horses – and dogs.
Equine Omega Products
Simple Ingredients.
Wild-Caught Fish Oil

A source of omega-3 fatty acids EPA and DHA, wild-caught fish oil ensures that your horse (or dog) gets essential nutrients in a bioavailable form.

Non-GMO Soybean Oil

A source of ALA – the precursor to EPA and DHA – and omega-6, our added soybean oil provides a balanced ratio of omega fatty acids for optimal results.

Human-Grade Vitamin E

Vitamin E is a powerful nutrient essential to maintaining overall health and well-being. Our added vitamin E ensures that your horse (or dog) receives the required daily intake.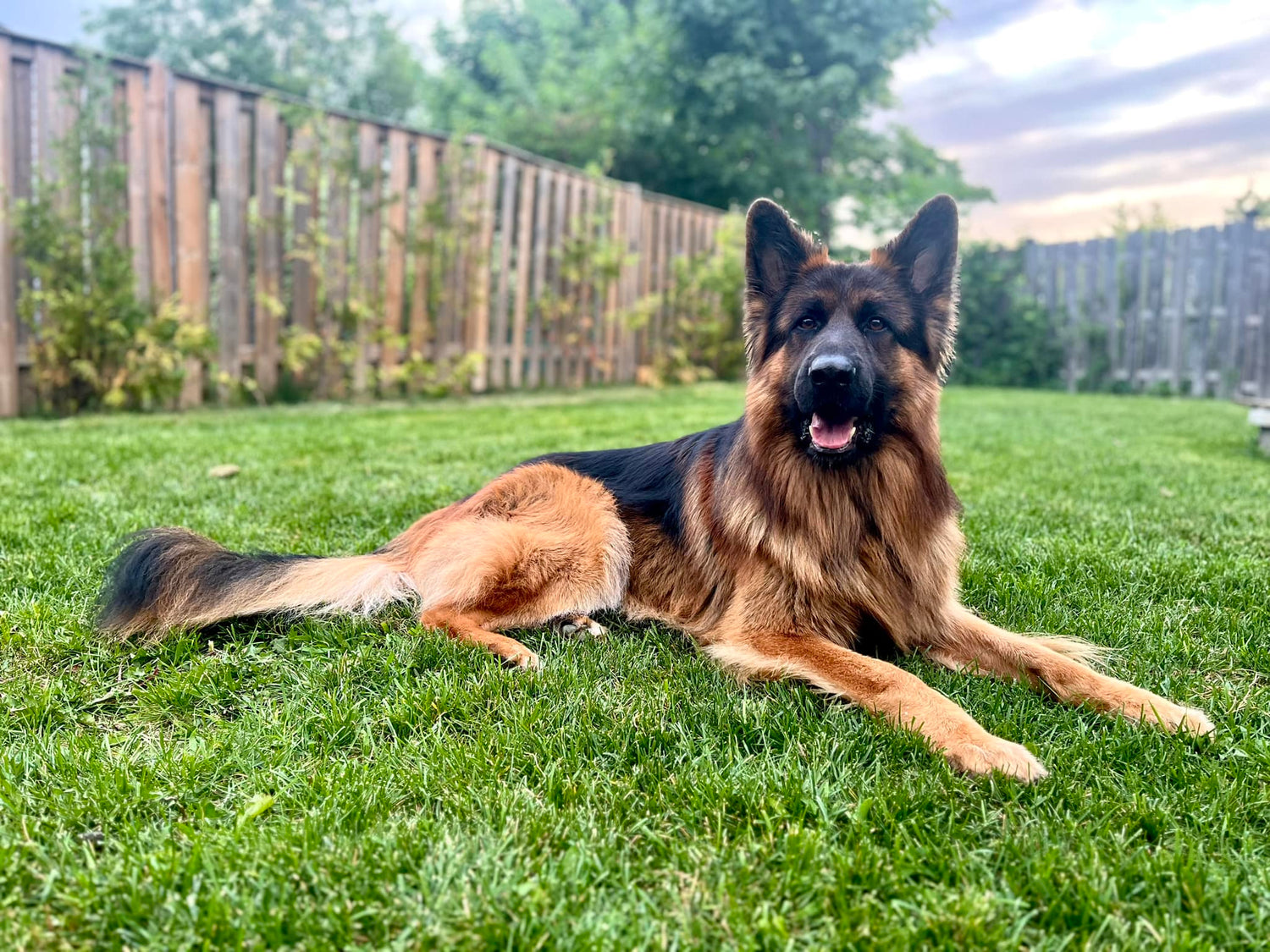 Canine Omega Complete
Canine Omega Complete has been carefully crafted with omega fatty acids and high-grade vitamin E, making it a source of essential nutrients and antioxidants with natural anti-inflammatory properties.
Learn More
EOC Ambassadors
Beth Underhill

Tiffany Foster

Maya Markowski

Clay McNichol

Holly Jacks-Smither
Testimonials
After using Omega® supplements for my own health with great results, I was excited to find a quality product to use on my horses. Joint health, gut health and a shiny coat are just some of the added benefits I have experienced while adding Equine Omega Complete to my horse's diet. After using it on five or six select horses for a period of six months, I am putting all 50 horses in my barn on it. It's that good.

I can't thank you enough Canine Omega Complete! I have been giving Canine Omega Complete to my French Bulldog, Audi, for just over 2 months now. We moved to the county and she was having allergic reactions to everything. It was making her lose her hair. She was scratching and going very pink in spots. Now she has grown the hair back and has a nice full coat back. I just placed my order for another bottle! 

We can't begin to express how amazing our horses look, feel, behave and compete. We strive to give our horses the best nutrition and keep their stomach, foregut and hindgut happy, especially while showing.

Our stallion, Jus d'O had a very successful and long year showing and I know that Equine Omega Complete® helped keep him healthy and happy! I believe that a lot of credit goes to these fabulous products!

I've been using Canine Omega Complete for over a year now and am loving the results! My dogs are active in training, competing, and showing in the conformation ring so having a shiny, healthy coat is a key part of their success. I love how shiny and healthy my dogs' coats look! Canine Omega Complete is my go-to product for both friends and clients!

This is my horse Brûlée (Jessie Got The Gun). He is a 6-year-old Quarter Horse Paint. I bought him in April and started feeding him Equine Omega Complete. He just SHINES now! There are dapples in his coat brought out by your product. He looks so good people ask me what I feed him! The pictures do not do him justice.

I have been using EOC on my horses for 10 years now. This is an amazing product. Not only do the horses have shinny coats and healthy skin but it also helps with GI health, reduces inflammation and aids in muscle recovery. EOC plays a huge role in keeping our horses feeling their best so that they can perform at their best!